Z zestawem interaktywnym zapewne mieli już Państwo do czynienia. W jego skład wchodzi tablica interaktywna, która  współpracujące z projektorem. Jego najważniejszą cechą jest pełna interakcja z użytkownikiem. Główną funkcją zestawu jest wyświetlanie zawartości komputera na tablicę interaktywną przy pomocy projektora.
Zarówno nauczyciel jak i uczniowie mogą korzystać z działania dotykowego w tablicy za pomocą palca lub innego dowolnego wskaźnika i jest to tak zwana technologia optyczna, pojemnościowa, pozycjonowana w podczerwieni (IR) . Innym rozwiązaniem jest technologia elektromagnetyczna, w której użytkownik obsługuje dotyk za pomocą specjalnego pisaka. Bez wątpienia lekcje przy pomocy tablicy interaktywnej są dużo ciekawsze niż tradycyjne metody nauczania. Dają możliwość opanowania uczniom materiału w przyjemniejszy i ciekawszy sposób. Dodatkowo Tablica interaktywna daje możliwość wykorzystywania programów multimedialnych, filmów, materiałów dydaktycznych oraz Internetu. Wyświetlany materiał można zapisać w formie elektronicznej lub sporządzać notatki na stopklatkach. Dzięki możliwości zapisu informacji wyświetlanych na tablicy, w dowolnej chwili można przywołać i wykorzystać ponownie sporządzony już materiał.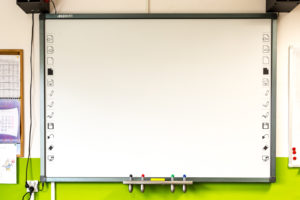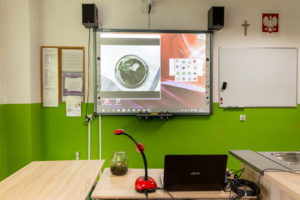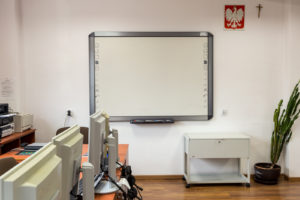 Dodatkowo do zestawu interaktywnego można podłączyć między innymi wizualizer. Dzięki temu wszyscy uczniowie jednocześnie będą mogli oglądać w powiększeniu dane eksponaty lub treści bez konieczności namacalnego dotykania ich.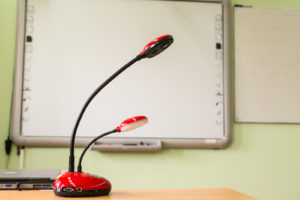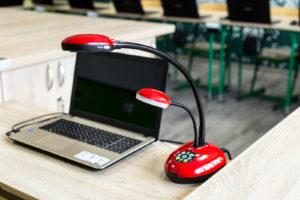 Kolejnym urządzeniem, które współpracuje z tablicą interaktywną jest system do głosowań. Umożliwi on przeprowadzenie ankiety, testu czy głosowania w szybki i przyjemny sposób. Zaoszczędzą Państwo w ten sposób kosztów związanych z koniecznością drukowania testów oraz czasu na sprawdzanie ich, gdyż system zrobi to automatycznie a wyniki poznamy w zaledwie kilka sekund po zakończeniu głosowania.
W zależności od potrzeb indywidualnych obecnie na rynku dostępnych jest kilka rodzajów dedykowanych tablicy interaktywnej uchwytów. Przykładowo statyw jezdny dodaje tablicy dodatkową cechę, którą jest mobilność. W prosty sposób można przemieszczać ją między salami. Niektóre modele tego typu statywów posiadają także uchwyt na projektor. Gdy z tablicy korzystać będą zarówno młodsi jak i starsi uczniowie warto pomyśleć o statywie z regulowaną wysokością co poprawi komfort pracy.
Warto pamiętać o tym, że tablica to jedynie część zestawu interaktywnego. Istotnym elementem jest także projektor, który jest odpowiedzialny za wyświetlanie obrazu z komputera. Przy wyborze projektora warto pamiętać, aby jedynym kryterium wyboru nie była wyłącznie cena. Projektory należy co jakiś czas poddawać konserwacji oraz dokonać w nich wymiany lampy. Ważnym elementem jest układ odpowiedzialny za generowanie obrazu. DLP i LCD są popularnymi rodzajami technologii obrazu. . Technologia DLP często wiązana jest z tzw. efektem tęczy. Są to barwne refleksy, dostrzegalne gdy równocześnie wyświetlamy czarne i białe elementy, np. czarna linia na białym tle. Warto podkreślić, że jest to subiektywne wrażenie wizualne – jedni widzą wyraźnie "efekt tęczy", inni go w ogóle nie dostrzegają. Niewątpliwie za to w technologii DLP doskonale widać głębię czarnego koloru, co w technologii LCD nie jest już takie oczywiste, choć są modele, które potrafią zachwycić. "Efekt tęczy" w LCD w ogóle nie występuje. W tej technologii możemy liczyć na bardzo dobre odwzorowanie kolorów i lepszą efektywność świetlną. Projektory możemy sklasyfikować na trzy podstawowe grupy biorąc pod uwagę współczynnik odległości projektora od obrazu (obliczany na podstawie zakresu ogniskowej w projektorze).
Wyróżniamy projektory ultra krótkoogniskowe, które doskonale sprawdzają się w edukacji. Są montowane w małej odległości, bezpośrednio nad tablicą. Największą ich zaletą jest to, że nie rzucają one cienia osoby prowadzącej na wyświetlany obraz i nie razi w oczy. Obraz jest wyraźny i jasny a praca z nim niezwykle komfortowa.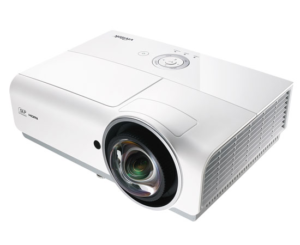 Rozwiązaniem nieco tańszym jest projektor krótkoogniskowy . Znajduje się on już nieco dalej od tablicy i rzuca bardziej widoczny cień osoby stojącej pod tablicą na wyświetlany materiał
Projektory o standardowej ogniskowości ( tradycyjne ) są często tańszym rozwiązaniem, ale nie koniecznie dobrym do tablic interaktywnych. Ich odległość od miejsca  wyświetlanego obrazu jest znacząca, a rzucany przez osobę prowadzącą cień nieco utrudnia pracę z tablicą interaktywną. Projektory te zaś dobrze sprawdzają się np. w aulach, gdzie osoba prowadząca nie wchodzi między projektor a ekran projekcyjny.
Dokonując wyboru projektora i tablicy lub ekranu projekcyjnego warto pamiętać, aby urządzenia te miały taką samą rozdzielczość oraz format, aby projekcja była komfortowa. Niektóre projektory posiadają dodatkowe funkcje, które dają użytkownikowi więcej możliwości. Jest to między innymi technologia 3D Ready pozwalająca na wyświetlanie obrazu w jakości 3D. Wybrane modele nie posiadają również filtrowego układu chłodniczego. Dzięki temu pracują nieco ciszej i pozwalają zaoszczędzić czas i koszty związane z wymianą lub czyszczeniem filtrów. Zoom cyfrowy (realizowany przez cyfrowe przetworniki projektora) to funkcja umożliwiająca powiększanie wybranego fragmentu obrazu, najczęściej obsługiwany za pomocą pilota projektora. Zoom optyczny (realizowany przez obiektyw) umożliwia niewielkie (zazwyczaj 1.2x -1.4x) powiększenie lub pomniejszenie całego obrazu (np. dopasowanie do wielkości ekranu). Zoom może być sterowany ręcznie lub elektrycznie. Producenci zadbali również o użytkowników, którzy raz na jakiś czas odtwarzają materiał z dźwiękiem wyposażając projektor w głośniki. Jeśli tego typu projekcja odbywa się dosyć często lub użytkownikowi zależy na lepszej jakości dźwięku warto zaopatrzyć się w głośniki. W trosce o bezpieczeństwo wybrane modele posiadają również blokadę PIN uniemożliwiającą korzystania z projektora osobą niepowołanym oraz slot Kensington zabezpieczający przed kradzieżą.
Aby projekcja odbywała się w komfortowy i poprawny sposób warto na samym początku odpowiedzieć sobie na pytanie jakie dokładnie mamy wymagania sprzętowe oraz gdzie będziemy z niego korzystać. Warto zadbać o dobrej jakości sprzęt, aby zarówno uczniowie jak i osoba prowadząca były w pełni zadowolone z projekcji.