Roboty Jimu pomagają od najmłodszych lat uczyć się programowania. Są przeznaczone dla dzieci już od 8 roku życia, ale chętnie korzystają z nich również dorośli. Estetycznie zapakowane w pudełeczku klocki w prosty sposób można złożyć w przyjaznego robota.
W zależności od zestawu roboty mogą działać nieco inaczej.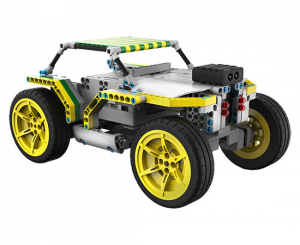 Karbot posiada w swoim zestawie koła, dzięki którym porusza się jak samochodzik. Czujnik podczerwieni wykrywa przeszkodę i przy odpowiednim zaprogramowaniu robot ominie ją, gdy ta stanie mu na drodze.
Tankbot  jest pierwszym robotem, który porusza się przy pomocy gąsienic. Czujnik podczerwieni pomaga mu również w przenoszeniu przedmiotów.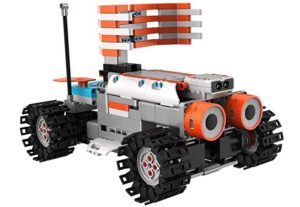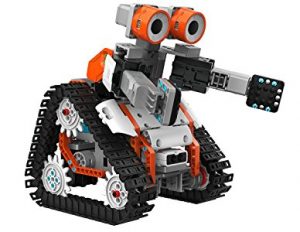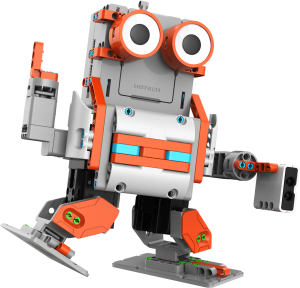 Astrobot jest na chwilę obecną najbardziej funkcjonalnym robotem. Posiada on gąsienice, czujnik podczerwieni, głośnik bluetooth oraz diody LED przy pomocy, których może on wyrażać swoje emocje. Ponadto Producent stworzył go z misjami specjalnymi do wykonania w aplikacji.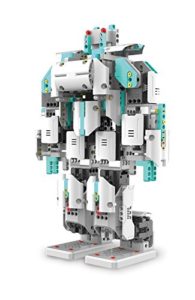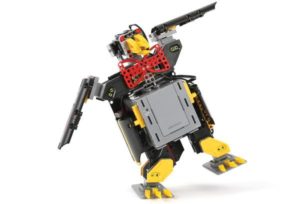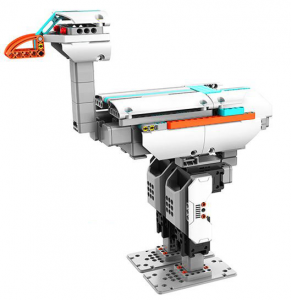 Pozostałe modele posiadają jedynie podstawowe funkcję oraz różnią się między sobą ilością klocków i czasem ich wyglądem.
Nie ma przeszkód w tym, aby zestawy ze sobą połączyć. Na chwilę obecną ilość klocków to pomiędzy 249 a 675 sztuk. Każdy zestaw ma swój sposób trudności: podstawowy, średnio zaawansowany, zaawansowany. Ważnym elementem są również serwomotory. Ich ilość w opakowaniu także jest różna –  najmniejszy zestaw posiada 4 a najbardziej rozbudowany aż 16 serwomotorów . Odpowiadają one za ruch robota i są podłączone, przy pomocy kabelków o różnej długości, do serca i mózgu robota – jednostki centralnej. Serwomotory są ponumerowane tak samo jak wejścia na kabelki w jednostce.  To właśnie ona zbiera dane z aplikacji i przekazuje je do serwomotorów. Właśnie w taki sposób funkcjonuje robot.  Specjalna aplikacja jest kompatybilna z systemem Android oraz iOS i można ją pobrać za darmo. Jest ona bardzo prosta w obsłudze i pokazuje chociażby jak zbudować krok po kroku robota z posiadanego zestawu. Warto zacząć zabawę z Jimu od budowy gotowego modelu, aby lepiej zaznajomić się z zasadami funkcjonowania robota. Klocki w prosty sposób można rozłączyć i przebudować robota w inny model. Jedynym ograniczeniem jest tylko wyobraźnia, więc robot może wyglądać tak jak tylko zapragnie użytkownik. Gdy jest on już gotowy należy włączyć jednostkę centralną i połączyć ją z aplikacją za pośrednictwem bluetooth. Jeśli coś pójdzie nie tak aplikacja od razu poinformuje o tym użytkownika. Po połączeniu możemy użyć gotowych akcji dostępnych w aplikacji i obserwować jak robot porusza się. Następną, kluczową funkcją aplikacji jest programowanie. Uczymy w ten sposób robota nowych czynności. Można tego dokonać ustawiając odpowiednio wybrane elementy z serwomotorami lub również przy pomocy aplikacji – co jest nieco trudniejsze. Polega to bowiem na ustawieniu pojedynczo każdego serwomotoru pod odpowiednim kątem. Aplikacja posiada również funkcję kontrolera. Dzięki niej możemy w szybki sposób sterować podstawowymi funkcjami robota. Dodatkowo w aplikacji możemy dzielić się w społeczności Jimu modelami, które sami stworzymy oraz podglądać rezultaty pracy innych.
Klocki te bez wątpienia pobudzają wyobraźnię i uczenie tylko programowania ale również projektowania i myślenia przestrzennego. Sam proces tworzenia robota jest niezwykle ekscytujący. Przy tworzeniu własnego modelu każdy swój ruch trzeba dokładnie przemyśleć, aby w późniejszym etapie robot funkcjonował poprawnie.